I hate to sound as if I'm joking, because I'm NOT!
This is book about "Racism" according to it's author. Well, excuse me, it's a book on "anti-Racism" according to the author Henry Rogers, AKA "Ibram X. Kendi" who changed his name to peddle open racism in America, and like all other "anti-this and anti-that groups" they are NOT "ANTI" they ARE JUST "Racists!"
Antifa claims to be "Anti-Fascist" as they promote and exercise Fascism and endorse Fascistic acts! Okay, but this guy who has become the Left's "god of CRT" is a MORON! I'm Not talking about just a little slow, or maybe not too sharp, NO……. This dude is a blatant MORON, an imbecile, a maroon, a snake oil salesman who is full of feces!
Watch the MORON Dr. "Ibram X. Kendi" (AKA Henry Rogers) The OPEN RACIST, WHO ADMITS HATING WHITE PEOPLE IN HIS OWN BOOK, attempt to "Define" the term "Racism." What was that rule about using a word to define that word? You know like defining <A monkey> "is a monkey like creature who acts like a monkey and does monkey stuff"
You cannot use a word in the definition of the word there "DOCTOR!" This guy is a pathetic MORON! But the entire left worships at his dumb-ass feet! Blind to the FACT that the man don't even know what Racism is! You can jump ahead to 6:15 if you just want to hear the definition! or type "t=370" at the end of this link.
It's important to understand that if the military can force all the normal people to quit by requiring insane CRT Training then nobody will remain but Radicals!
I say this is the most dangerous thing America has ever faced! If these radical scumbags can get a majority in our military how long will it be before they are going house to house in America to "Get the imaginary Racists" that their sick and twisted minds have invented after years of CNN & MSNBC Propaganda??? SCARY!
---
Ibram X. Kendi is really Henry Rogers, a radical professor from the University of Florida, and he cannot even DEFINE the term "Racism" much less teach us all about it! How can you teach about something you cannot define? This moron and his book are everywhere!
Do like Dinesh D'Souza said! Fight these people the way they fight YOU! Watch the next video and learn how!
Guys and Gals… IT'S OUR TURN! Listen to me today and YOU CAN CHANGE THE CORPORATE WORLD OF MARXIST CRAP FOREVER! You have to adopt the tactics used by leftists and you'll destroy corporate scum!
Cancel these companies distributors, badmouth people who sell their products! Lead demonstrations at stores selling their stuff! Write the corporate scumbags FIRST and tell them why you are about to do what you do! But then DO IT TIRELESSLY! Take THOUSANDS OF PEOPLE WITH YOU!
We really need to organize "action groups" to focus on advertisers and marketers AND ESPECIALLY THE CORPORATIONS THEY MARKET FOR! Get your kids involved! The most effective means is to go where their products are sold and give awful reviews!
Say you bought the product and it sucks, delivery was slow, customer service was non-existent! Learn to MASTER THE CANCEL CULTURE THEY HAVE WEAPONIZED AGAINST YOU!
TURN THE TABLES ON THEM!
And watch Dinesh D'Souza speak about when Costco cancelled his book! LOOK WHAT HAPPENED when his fans did EXACTLY what I'm telling you to do!!! They brought his book back, gave him his own display and made a special place for his new movies!!! it's below!
You MUST FIGHT BACK!
Below is just one of several thousand articles saying this Racist is America's best and only hope!
---
By no means is this drivel supported here! I'm just pointing it out! This is from the "Millenial Grind" grinding on the brains of children!
I just cut and pasted the nonsenser for you to see, if you want to read it you should go there for sure! It's a PROPAGANDA CAMPAIGN LIKE MANKIND HAS NEVER SEEN!
The brainwashed masses just love this idiots book it would appear! But I'll bet you that is another lie just like covid19 was made possible by using MEANINGLESS PCR tests to make it appear like a pandemic, when in fact there was NONE!
---
In How to Be an Antiracist, Kendi takes readers through a widening circle of antiracist ideas—from the most basic concepts to visionary possibilities—that will help readers see all forms of racism clearly, understand their poisonous consequences, and work to oppose them in our systems and in ourselves.
Kendi weaves an electrifying combination of ethics, history, law, and science with his own personal story of awakening to antiracism.
This is an essential work for anyone who wants to go beyond the awareness of racism to the next step: contributing to the formation of a just and equitable society.
Keep scrolling to read 30 Powerful Quotes from How to Be an Antiracist by Ibram X. Kendi.
Get The Book: How to Be an Antiracist by Ibram X. Kendi available now on Amazon.
Related Article: 10 Best Books On Anti-Racism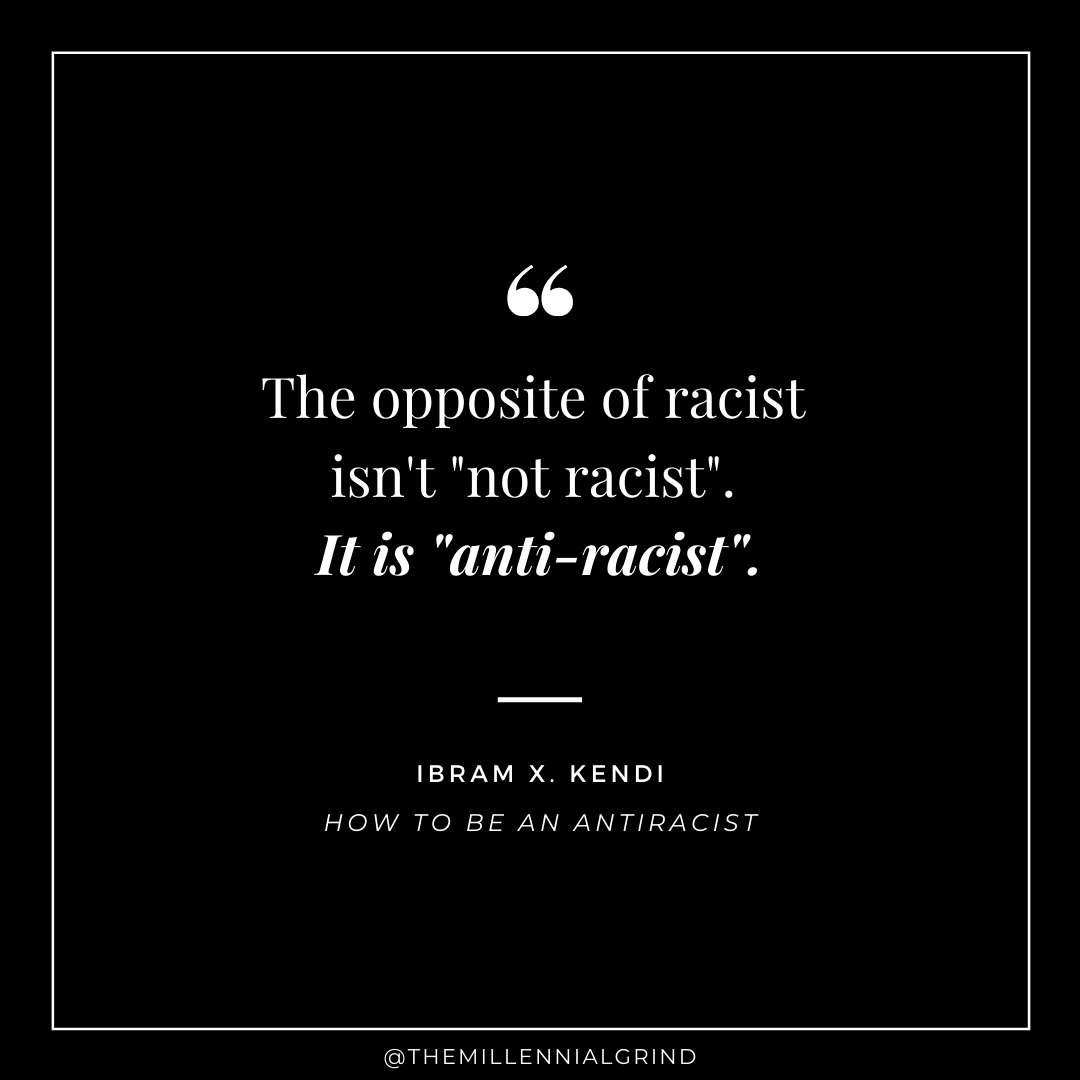 The opposite of racist isn't "not racist". It is "anti-racist".
What's the difference? One endorses either the idea of a racial hierarchy as a racist, or racial equality as an anti-racist.
One either believes problems are rooted in groups of people, as a racist or locates the roots of problems in power and policies, as an anti-racist.
One either allows racial inequities to persevere, as a racist, or confronts racial inequities, as an anti-racist. There is no in-between safe space of "not racist".
What's the problem with being "not racist"? It is a claim that signifies neutrality: "I am not a racist, but neither am I aggressively against racism."
There is no neutrality in the racism struggle. The opposite of "racist" isn't "not racist." It is "antiracist".
The claim of "not racist" neutrality is a mask for racism.
The good news is that racist and antiracist are not fixed identities. We can be a racist one minute and an antiracist the next. What we say about race, what we do about race, in each moment, determines what — not who — we are.
Black people are apparently responsible for calming the fears of violent cops in the way women are supposedly responsible for calming the sexual desires of male rapists.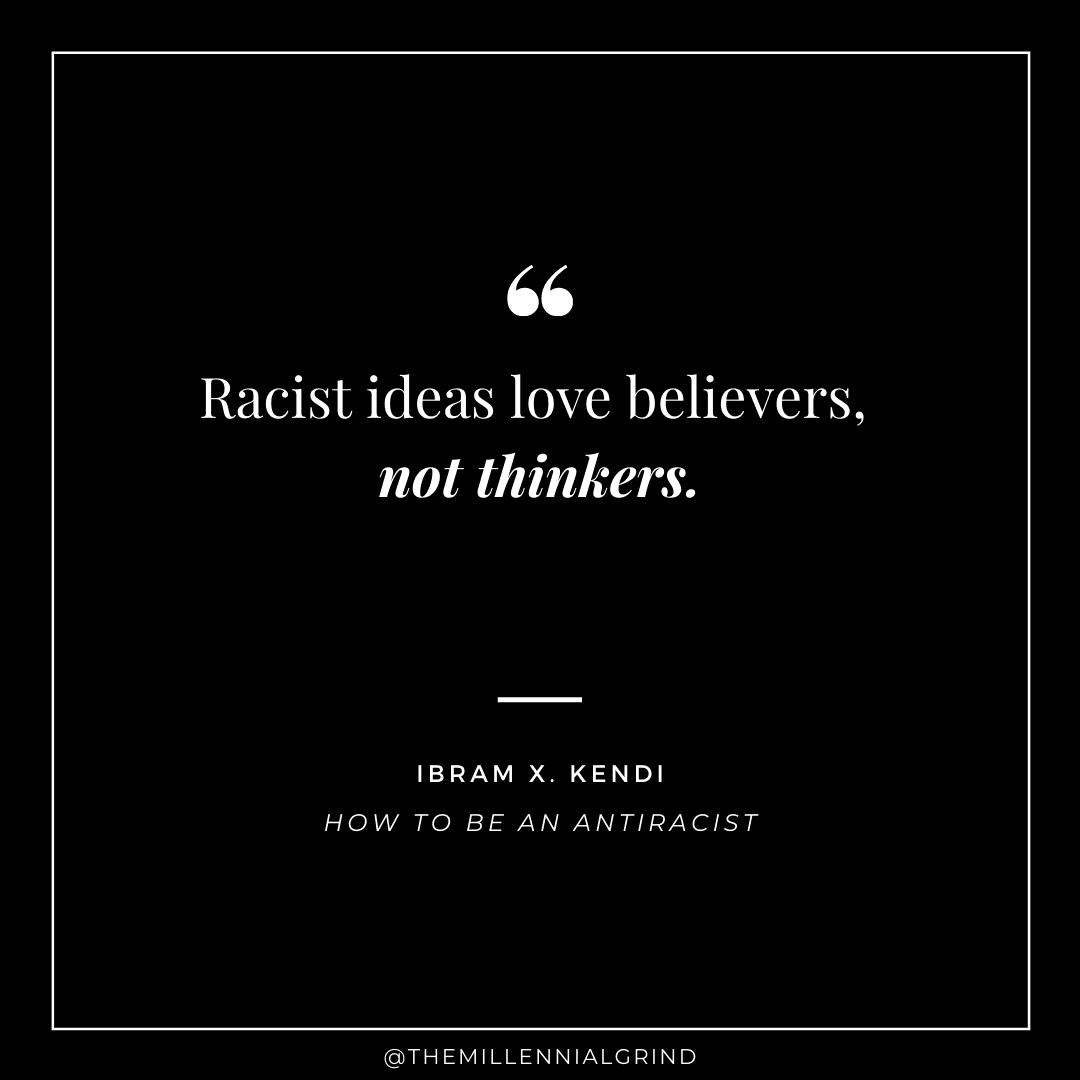 Racist ideas love believers, not thinkers.
Americans have long been trained to see the deficiencies of people rather than policy.
Like fighting an addiction, being an antiracist requires persistent self-awareness, constant self-criticism, and regular self-examination.
Denial is the heartbeat of racism, beating across ideologies, races, and nations. 
We were unarmed, but we knew that blackness armed us, even though we had no guns.
Assimilationist ideas are racist ideas. Assimilationists can position any racial group as the superior standard that another racial group should be measuring themselves against, the benchmark they should be trying to reach.
The only way to undo racism is to consistently identify and describe it—and then dismantle it.
"Institutional racism" and "structural racism" and "systemic racism" are redundant. Racism itself is institutional, structural, and systemic.
To be antiracist is to think nothing is behaviorally wrong or right- inferior or superior- with any of the racial groups.
To be antiracist is to deracialize behavior, to remove the tattooed stereotype from every racialized body.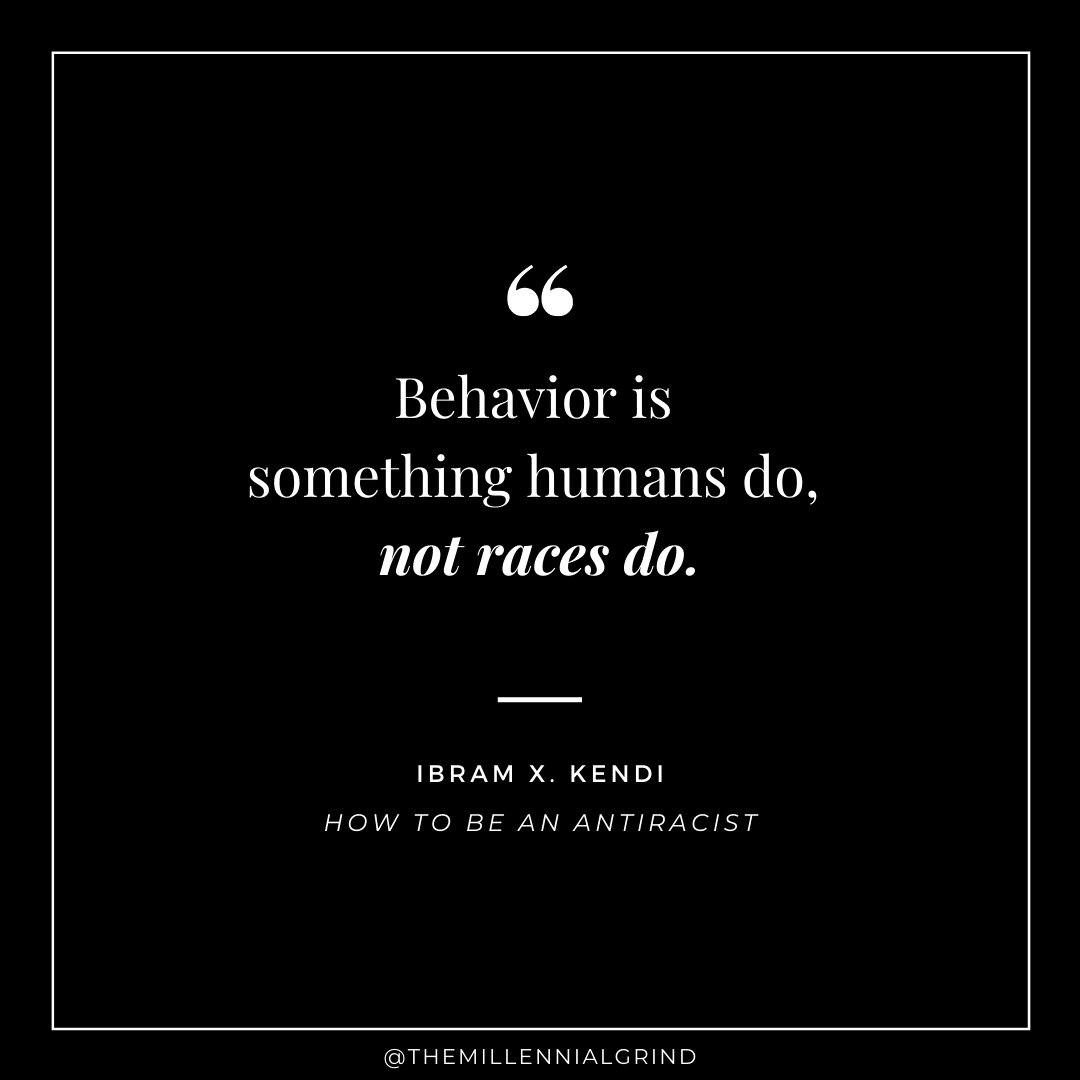 Behavior is something humans do, not races do.
The idea that Black languages outside Africa are broken is as culturally racist as the idea that languages inside Europe are fixed.
No one becomes racist or antiracist. We can only strive to be one or the other.
What if we realized the best way to ensure an effective educational system is not by standardizing our curricula and tests but by standardizing the opportunities available to all students?
To be antiracist is to view national and transnational ethnic groups as equal in all their differences.
To be antiracist is to challenge the racist policies that plague racialized ethnic groups across the world.
To be antiracist is to view the inequities between all racialized ethnic groups as a problem of policy.
Culture defines a group tradition that a particular racial group might share but that is not shared among all individuals in that racial group or among all racial groups.
Every policy in every institution in every community in every nation is producing or sustaining either racial inequity or equity between racial groups.
Every single person actually has the power to protest racist and antiracist policies, to advance them, or, in some small way, to stall them.
Individual behaviors can shape the success of individuals. But policies determine the success of groups. And it is racist power that creates the policies that cause racial inequities.
Which quote from How to Be an Antiracist by Ibram X. Kendi is your favorite?
---
It amazes me that a man who cannot define the term "Racist" can write 20 Racist books on the subject!
Folks, there is nowhere on Earth the people pushing this radical, racist, ignorant theory based in Marxism called CRT should feel safe!
People like this scumbag should have every person selling their material inundated with negative comments, complaints, letters to corporate scumbags, letter to stores and bookstores etc…. But most importantly the negative comments on the pages selling this filth!
Claim you bought it and it sucks, the quality was poor, the theory wrong, and it took months to get it!!!
If you see grocers selling the book LOAD A BASKET FULL OF GROCERIES and pretend to notice the "offensive" & "Racist" book, tell the manager you will no longer shop at a place that sells this TRASH!
Create a group of "Action Warriors" to go after corporate scum the way the left has gone after YOU and Conservatives in general! You should be wortking the product pages of these people! Work the physical buildings too!
The US Military has forced members to attend training sessions authored by Racist twits like this!
Admiral Mike Gilday has put this piece of toilet paper on the military's recommended Reading list!
PLEASE SIGN & SHARE TO HAVE MIKE GILDAY De-Commisioned!
Petition to Remove Admiral Michael Gilday as Chief of Naval Operations
Tue Jun 22, 2021 
Our military is under attack by "anti-racism" activists whose message is that white America is racist.
"Critical Race Theory" is the academic discipline that is used to justify the attack. Critical Race Theory is a hateful Marxist fiction that maintains America is evil because the majority of its citizens are white, and that its Constitution is evil because it was written by white people. The agents of this dogma, including those lecturing at the Naval War College, teach that white people – from the Founding Fathers to the 200 million white people in the country today – are oppressors, who are an internal enemy,
Critical Race Theory began by destroying the moral integrity of colleges and corporations. Now its target is the U.S. Navy.
Chief of Naval Operations Admiral Michael Gilday has told the third of a million naval personnel that they should be reading and learning from Ibram X. Kendi, a mediocre, fact-challenged university professor who has become the go-to "anti-racism" expert for America's woke elites.
In a congressional hearing, Admiral Gilday was asked by Representative Jim Banks to denounce Kendi's view that white people are criminals – that they created the AIDS virus to kill black people. The Admiral refused to do so, dismissing it as a "cherry picked" quote about which he had no other opinion.
By adding Ibram X. Kendi's book – How To Be An Anti-Racist – to the Navy's Professional Reading Program, Gilday put the weight of the U.S. Navy behind Kendi's hatred of white America and all white people as the allegedly racist oppressors of blacks.
That's why I hope you'll join me, and demand the Removal of Chief of Naval Operations Admiral Michael Gilday.
Kendi defines anti-racism as opposition to America's "systemic racism." Systemic racism was outlawed by the Civil Rights Act of 1964. If it were an actual problem there would be a tsunami of lawsuits and a tsunami of judgments awarding millions of dollars in penalties to the victims. There are no such tsunamis because systemic racism is a myth manufactured by leftists to disarm their critics and force their retreat. In Kendi's dogma, the only way not to be a racist is to agree with him that racism is in America's DNA, and white people are racists because they are white.In Kendi's own words: "There is no such thing as a not-racist idea, only racist ideas and antiracist ideas." Either you agree with Kendi's leftwing politics, or you're a racist.Gilday was not only endorsing Kendi's racism, but also his politically partisan agenda, which claims ridiculously that dissent from the left is racist even when it comes to global warming."Do-nothing climate policy is racist policy," Kendi argues, "since the predominantly non-White global south is being victimized by climate change more than the Whiter global north."But the world's greatest polluters are China, India, and Pakistan . – countries that are not white, and that refuse to implement the Paris Climate Accords.Gilday's support for Kendi is part of his effort to divide and weaken the Navy by imposing Critical Race Theory and radical Identity Politics on the men and women who defend us. Last year Gilday promoted "conversations" that endorsed Black Lives Matter's view that all whites are racists and encouraged recruits and naval officers to believe that, like America, the navy is systemically racist – no evidence required. According to Gilday-Kendi, life for black people is miserable in America, and white people have to be "transformed" by atoning for their white skin privilege . "White Skin Privilege is, in fact, a term invented by the Weather Underground: a notorious terrorist group which bombed the Pentagon in the 1970s.An official Navy video introduced by Gilday featured a black aviation tech complaining that, "being African-American in America is not fun;" a black lieutenant commander who claimed that he had experienced "systemic racism" and "implicit bias", and a white female musician confessing her "privilege as a white person" and attacking America over unfounded claims of "systemic racism"The video of Navy personnel putting down America, blaming their problems on systemic racism, and reciting Marxist talking points was the centerpiece of what Gilday called vital "conversations" about racism. Usually, a conversation has more than one side. But not in today's U.S. Navy which has become a Critical Race Theory echo chamber.While the theme of Gilday's racial crusade is, "One Team, One Navy", its real message is that there are two navies and two Americas: white and non-white. The goal of the admiral's new "diversity and inclusion" mandate is for the victimized non-white Navy to defeat the oppressive and racist white Navy. Or as one crew member in the video declares, "Tomorrow's Navy will finally stand on the right side of history when we realize that black lives matter." Considering that the latest ethnic genocide, involving millions of Uighur Muslims, is taking place in a non-white nation, China, today, it would be interesting to know what "the right side of history" is, or whether history has a side.An official video sponsored by Gilday, broadcasts the anti-American claim that the 245-year-old Navy has been on the wrong side of history, that John Paul Jones, who fought the British, Stephen Decatur, who fought Islamic pirates, and the men who fought on the USS Kearsarge to end slavery during the Civil War, were all on the "wrong side" of history until Gilday and Alexandria Ocasio-Cortez came along to set them straight.Please add your name to this petition right away, and demand the Senate remove Chief of Naval Operations Admiral Michael Gilday.
Under Gilday's leadership, minority members of the Navy are being told that it's okay to question whether they should be serving their country. They're being encouraged to view all of their interactions with white personnel as racist because all white people are inherently racist. Including their commanding officers and their comrades in arms.Communist China could not be damaging the Navy's readiness any more than Gilday is with his divisive accusations about the racism of the majority of his troops.In the two years since Gilday took over as Chief of Naval Operations, morale is down, and instead of preparing them to fight America's enemies, he has set off a civil war within his own ranks. China doesn't need to fire a single shot if Gilday is successful in destroying our military's cohesion, morale and will to defend the country.Biden is slashing the Navy's shipbuilding budget even as the People's Republic of China is building more ships than the U.S. Navy. The United States is losing the command of the seas. While Biden is undermining the physical infrastructure of the Navy, Gilday is waging a relentless war against the moral infrastructure of the service men and women under his command.Gilday and other military leaders are replacing military readiness with military radicalism. Admiral Bill Moran, Gilday's predecessor and President Trump's choice, had a reputation for standing up for his people. America First was his guide. Gilday has focused instead on political wokeness and demonizing those who resist his new order.Gilday – a vice admiral – was unqualified for his promotion to Chief of Naval Operations in the first place. He got his job through a political coup.His predecessor, Admiral Moran was forced out over a fake scandal generated by Senator Kirsten Gillibrand. Gilday, a vice admiral, should not have been in line to be Chief of Naval Operations, but Democrat politicians and bureaucrats were determined to purge as many of President Trump's appointments as they could. Their goal was to undermine his America First policies. They were so successful that no one qualified to be Chief of Naval Operations actually wanted it.As Chief, Gilday quickly showed why the same people who persecuted Moran left him alone. The men and women of the Navy can rely on Gilday to promote Black Lives Matter agendas, but they can't count on him to watch their backs.Using race as the measure of all things, Gilday unleashed a political indoctrination campaign as the Black Lives Matter riots got underway. Video confessions of white privilege and condemnations of America are the heart and soul of that campaign. He initiated the Task Force One Navy whose report called for reinventing the Navy to fight "racism, sexism, ableism and other structural and interpersonal biases" – perfect Marxist slang for their war on America.White members of the Navy are being told to check their white privilege, to believe that they didn't earn their ranks, but were awarded them because of systemic racism, and that the more they achieve, the guiltier they are of getting ahead at the expense of disadvantaged minorities.Officers are being told to stop thinking about ability and merit – racist categories – and to focus on meeting racial and gender quotas when it comes to mentoring and promotions. They're being warned that their judgement is racially biased and that any decision they make will be racist. There is talk of using computer programs to achieve racial quotas for personnel and of subjecting officers to "implicit bias" training which is based on the hateful idea that whites are racists by virtue of their skin color.These are the same poisonous attitudes that destroyed American achievement on college campuses so that China's educational system now outperforms our own, and racist mediocrities like Ibram X. Kendi become intellectual celebrities. Gilday and his allies are hard at work trying to reward activism over ability, and sow doubt about the merits of any sailor who is white.The Chief of Naval Operations is dividing the men and women of the Navy by skin color and turning them against each other. When you are a 19-year-old deciding whether to risk your young life for your country how does being told by your military commanders that America is a 400-year-old cesspool of white racist oppression help you to make the decision to fulfill your oath to defend that country and its Constitution?Gilday is undermining military readiness in the face of a possible naval conflict with enemies of the United States, especially the increasingly aggressive regime in Communist China.Gilday's indoctrination program is already a threat to national security and must be terminated before it's too late. And the best way to do that is for him to resign or be forced to step down.Our national security is at stake. Sign this petition and take a stand against Gilday's destruction of the U.S. Navy.Sign this petition and take a stand against Gilday's destruction of the U.S. Navy.
David Horowitz
---
It's time to unleash Saul Alinsky's "Rules for Radicals" on the Left, the way they have effectively used them on us! The left uses these rules to bring forth an evil NWO with Lucifer on the throne!
While we DON'T want to push Satanic ideology the way the left does, their tactics outlined below are very powerful and very successful! Especially Number 4! Hold THEM to their own standards!
The new strategy against the LEFT! See how THEY like it!